Welcome to the PREFACE website

( Jump straight to Latest News, Upcoming Events or Recent Publications. )
---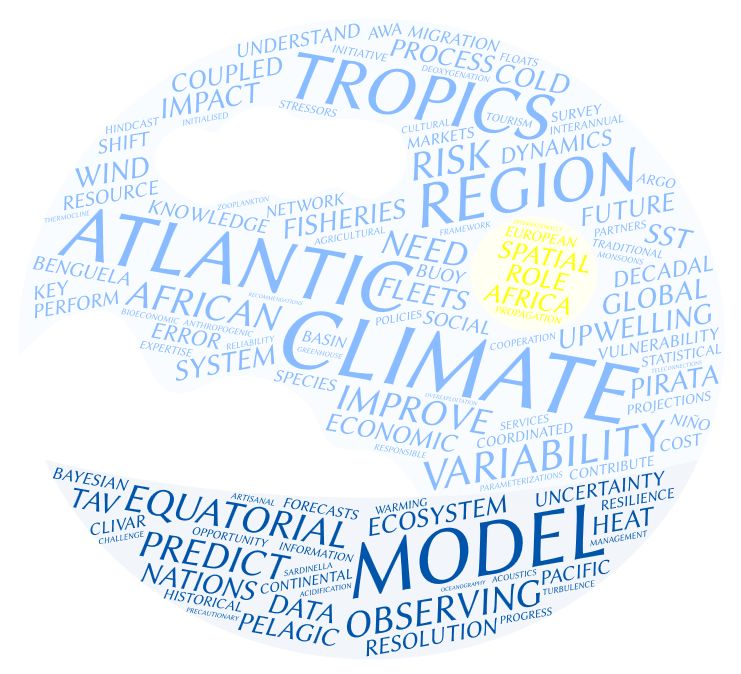 The project Enhancing Prediction of Tropical Atlantic Climate and its Impacts (PREFACE) is funded by the European Union 7th Framework Programme (FP7-Environment) to improve our understanding of the functioning of the tropical Atlantic climate and our capabilities to predict it and its impacts, with a particular focus on Atlantic African fishing communities.
It is a large project (~€12M) bringing together 28 partners across 18 countries in Europe and Africa with expertise in oceanography, climate modelling and prediction, and fisheries science, and 3 associate partners directly involved in the sustainable management of the three Eastern boundary large marine ecosystems (LME) of the Tropical Atlantic.
PREFACE forms part of a cluster of projects funded by the European Union to investigate climate-related ocean processes and combined impacts of multiple stressors on the marine environment, as a contribution to the pan-European and international goal of achieving the sustainable management of the environment and its resources.
Download the PREFACE flyer
Téléchargez le Prospectus PREFACE (Plus d'information en français: page "Outreach" et page "Deliverables and milestones".)
Descarregue o Folheto PREFACE (Mais conteúdo em Português: página "Outreach" et página "Deliverables and milestones".)

The information and views set out in this website are those of PREFACE and do not necessarily reflect the official opinion of the European Union.
Latest News
The PREFACE International conference on "Ocean, Climate and Ecosystem" and final project assembly gathered, from Norway to South Africa and California to Japan, 83 senior researchers, early career scientists, research institute directors, advisors to ministers, high-level managers of regional fisheries and coastal management commissions, and even a cartoonist, in a week of intensive and productive collaboration. Presentations, photos and more: available here.
---
New job opportunity at the Geophysical Institute, University of Bergen. Deadline for application: May 4th 2018. More information.
---
Check out the report from the PIRATA FR28 Spring survey aboard R/V Thalassa from Mindelo and covering the not-so-well documented Gulf of Guinea. PIRATA F28 report.
---
Cooperative Fisheries for Shared Resources: a message from PREFACE. Article in French, by IRD. More…
Upcoming Events
Workshop on "Small-scale fisheries in the South", 25-26 June 2018, Plouzané, France, organized by Université de Bretagne Occidentale and IRD. The workshop, in French and English, will gather researchers, managers, financing and training institutions to discuss current research in small-scale fisheries in the South and the associated issues for a sustainable development. Registration deadline: 25 May. More….
---
PIRATA 23 & 2nd TAOS Review meetings, 22-26 October 2018, Marseilles, France: an important opportunity to gather information on the Tropical Atlantic Observing System and PIRATA data use impacts from stakeholders, specialists in satellite measurements and products, ocean weather-climate operational prediction, ocean biogeochemistry and resources along with socioeconomic impacts of climate and environmental changes. Direct links to Information and Registration.
---
Recent Publications
Baldé et al., 2018: Population dynamics and stock assessment of Ethmalosa fimbriata in Senegal call for fishing regulation measures.
---
---
Herbert and Bourlès, 2018: Impact of intraseasonal wind bursts on sea surface temperature variability in the far eastern tropical Atlantic Ocean during boreal spring 2005 and 2006: focus on the mid-May 2005 event.
---
Toniazzo and Koseki, 2018: A Methodology for Anomaly Coupling in Climate Simulation.
---
Kolodziejczyk et al., 2018: Subsurface Fine‐Scale Patterns in an Anticyclonic Eddy Off Cap‐Vert Peninsula Observed From Glider Measurements.
---
Koseki et al., 2018: Causes of the large warm bias in the Angola–Benguela Frontal Zone in the Norwegian Earth System Model.
---
Nguyen et al., 2018: Competition or cooperation in transboundary fish stocks management: Insight from a dynamical model.
---
Losada et al., 2018: Impact of dynamical regionalization on precipitation biases and teleconnections over West Africa.
---
Tchipalanga et al., 2018: Eastern boundary circulation and hydrography off Angola-building Angolan oceanographic capacities.