Welcome to the PREFACE website

( Jump straight to Latest News, Upcoming Events – PREFACE FINAL ASSEMBLY and INTERNATIONAL CONFERENCE ON OCEAN, CLIMATE and ECOSYSTEMS or Recent Publications. )
---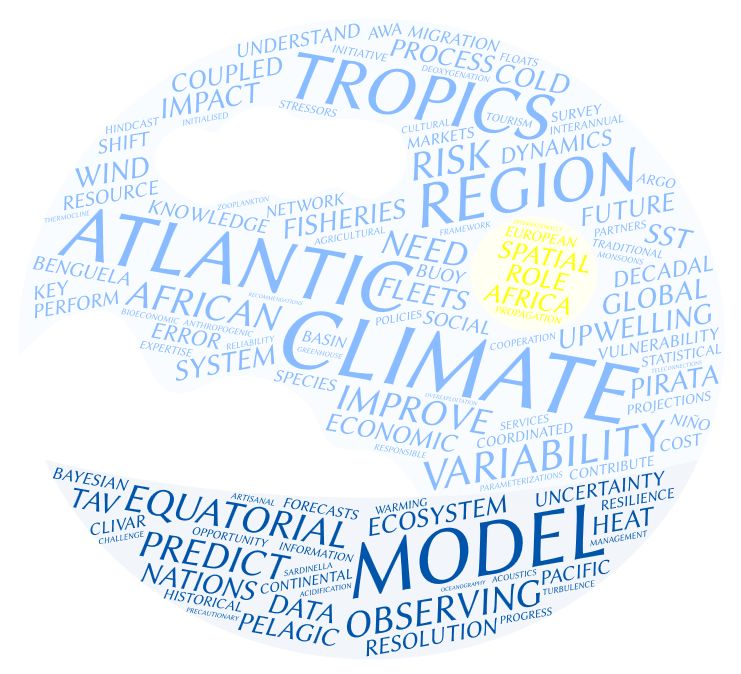 The project Enhancing Prediction of Tropical Atlantic Climate and its Impacts (PREFACE) is funded by the European Union 7th Framework Programme (FP7-Environment) to improve our understanding of the functioning of the tropical Atlantic climate and our capabilities to predict it and its impacts, with a particular focus on Atlantic African fishing communities.
It is a large project (~€12M) bringing together 28 partners across 18 countries in Europe and Africa with expertise in oceanography, climate modelling and prediction, and fisheries science, and 3 associate partners directly involved in the sustainable management of the three Eastern boundary large marine ecosystems (LME) of the Tropical Atlantic.
PREFACE forms part of a cluster of projects funded by the European Union to investigate climate-related ocean processes and combined impacts of multiple stressors on the marine environment, as a contribution to the pan-European and international goal of achieving the sustainable management of the environment and its resources.
Download the PREFACE flyer
The information and views set out in this website are those of PREFACE and do not necessarily reflect the official opinion of the European Union.
Latest News
PREFACE celebrates the launch of the South Atlantic Flagship Initiative between the European Union, Brazil and South Africa. More…
---
AWA and PREFACE at the UN Ocean Conference in New York (USA), on World Oceans Day 2017: Dr. Patrice Brehmer contributes to the side-event "Africa in Action for Fisheries and Aquaculture facing Climate Change issues", presenting experience from these associate projects to serve as basis for the establishment of an observatory for fisheries and the marine environment targeting SDG 14 in West African waters. More…
---
Call for abstracts for YOUMARES, 13-15 September 2017, Kiel, Germany. Targetted for young scientists. Submit by 31.05.2017. More info: HERE.
---
Check out the PREFACE and SACUS Autumn 2016 survey aboard R/V Meteor from Recife to Walvis Bay weekly reports in EN,PT and DE here.
---
Declaration « Ocean Climate », signed by the research organisations of West-Africa during the ICAWA 2015 international conference (17-20 Nov. 2015, Dakar) is now available here.
Upcoming Events
PREFACE International Conference on Ocean, Climate and Ecosystems and Final Assembly 2018, Lanzarote, Spain, 17-20 April 2018 . Find out more at: event webpage. Abstract submission deadline: 15th March 2018!
---
AMOS-ICSHMO Conference, Sydney, Australia, 5-9 February 2018. Deadline for abstract submission is 31 August 2017. Find out more at: www.amos-icshmo2018.com.au
---
Recent Publications
Diankha et al., 2018: Contrasted optimal environmental windows for both
sardinella species in Senegalese waters.
Martín-Rey et al., 2018: Is There Evidence of Changes in Tropical Atlantic Variability Modes under AMO Phases in the Observational Record? .
---
Ba et al., 2017: Profitability and economic drivers of small pelagic fisheries in West Africa: A twenty year perspective.
---
Djakouré et al., 2017: Respective roles of the Guinea Current and local winds on the coastal upwelling in the northern Gulf of Guinea.
---
Jouanno et al., 2017: Equatorial Atlantic interannual variability and its relation to dynamic and thermodynamic processes.
---
Kopte et al., 2017: The Angola Current: Flow and hydrographic characteristics as observed at 11°S.
---
Ndoye et al., 2017: Dynamics of a "low-enrichment high-retention" upwelling center over the southern Senegal shelf
---
Thiaw et al., 2017: Effect of environmental conditions on the seasonal and inter-annual variability of small pelagic fish abundance off North-West Africa: The case of both Senegalese sardinella.