PREFACE INTERNATIONAL CONFERENCE on Ocean, Climate and Ecosystems
and
PREFACE FINAL ASSEMBLY
Arrecife, Lanzarote (Canary Islands, Spain)
17 – 20 April 2018
Conference Scope and Topics
The PREFACE project is funded under the European Union 7th Framework Programme to improve our understanding of the functioning of the tropical Atlantic climate, and to enhance our capabilities to predict it and its impacts, with a particular focus on Atlantic African fishing communities. During the past 4.5 years, this large project has brought together 28 partners across 18 countries in Europe and Africa with expertise in oceanography, climate modelling and prediction, and fisheries science, and 3 associate partners directly involved in achieving the sustainable management of the three Eastern boundary large marine ecosystems of the tropical Atlantic. An open science conference on "Ocean, Climate and Ecosystems" will be held jointly with the final project assembly to mark the end of this highly successful project.
The aim of the conference is to bring together those working on tropical Atlantic climate and its impacts, especially on the marine ecosystem and fisheries. We thus welcome contributions from the wider scientific and other stakeholder community, as well as from the PREFACE team, in the following broad areas:
Key oceanic processes in the Tropical Atlantic, observations and modelling
We welcome contributions from observations and modelling of key ocean processes, covering the upper ocean heat and freshwater balance, equatorial and coastal upwelling, equatorial and coastal wave processes, exchange between the open ocean and coastal seas, coupled ocean-atmosphere dynamics or physical-biogeochemical/biological coupling. Contributions on the evolution, gaps and future perspectives of the tropical Atlantic observing system and on improvements and limitations of forced ocean models may contribute to this topic as well.
Climate variability, modelling and prediction
Despite progress in our understanding of tropical Atlantic variability (TAV), key uncertainties still exist. We welcome contributions on the various modes of TAV, on their underlying dynamics, teleconnections, and predictability. Particularly welcome are studies on understanding and reducing model systematic error in the tropical Atlantic, and on climate prediction.
Marine ecosystems, fisheries and climate change
Land use and fisheries are primary sectors in the response of African Atlantic societies to climate change. We welcome contributions on ecosystem processes and on how they are impacted on by climate variability, and will be altered according to future climate conditions. Also sought are contributions on regional climate change and the uncertainties linked to mean state errors. Finally contributions on the socio-economic impacts of climate variability and change on the fisheries sector are highly welcome.
PREFACE 1st announcement-low res.
---
Important dates
Abstract submission: CLOSES ON MARCH 4th.
Registration: EXTENDED TO APRIL 6th!
Final Conference: Tue. 17th – Thu. 19th April 2018
Welcome Reception:: Tue. 17th April, 19:30-21:30 (time may change)
Science-Policy event: Thu. afternoon, 19th April.
Networking Dinner: Thu, 19th Apriltime to be determined
---
Registration and Abstract Submission
Abstract submission and registration are closed.
---
Meeting venue
The Open Science Conference and Final Assembly will take place at Centro Cívico de Arrecife, Calle El Forito, s/n., 35500 Arrecife, Lanzarote, Spain from Tuesday 17th April to Thursday 19th April 2018. The PREFACE partners' General Assembly will follow on the 20th April 2018. The conference will have a plenary format. Posters will be located in the plenary room and also the hall and patio of the lunch area on the ground floor. Registration will take place from 8:00-9:00am each day in front of the room for plenary. Lunch and coffee breaks will be served at Centro Cívico de Arrecife.
The welcome reception will take place at the Real Club Náutico Arrecife, Avenida Rafael González Negrín, 1, 35500 Arrecife, 19:30-21:30. The networking dinner will take place at the restaurant of the Contemporary Art Museum Castillo de San José, Calle Nte., 51, 35500 Arrecife. A bus service will be organised to transport all participants to the dinner. Details will be announced in the morning at the conference.
Agenda layout-updated on 20180413
Agenda for Oral presentations
Poster Sessions and titles
PREFACE final conference Book of Abstracts_20180414
Poster format: Vertical/Portrait preferred. Size no larger than A0.
Oral format: 15min (10 min + 5 min for questions)
---
Accommodation
All participants need to arrange for their own accommodation. Below is a small selection of recommended hotels nearby or apartments for rental. We recommend checking Airbnb and Booking.com as there are many affordable apartments and rooms in Arrecife and nearby, more scenic areas, such as Costa Teguise or Puerto del Carmen, which have very good public transport to Arrecife. Alternatively, car rental may be a good option, if you plan to see more of the island also. You are encouraged to reserve your room as soon as possible to get the best rates.
If you have extremely limited support, please note there is an option for free accommodation in a school dormitory. Please contact prefaceproject(at)uib.no .
Lancelot (3 stars): Offer a special price for conference participants of 75€ double room/65€ single room. Book: info@hotellancelot.com ; code: "Congreso Cambio Climático". Offer depending on availability.
Hotel Diamar (3 stars): Sea view rooms: 84€ double /66€ single; Standard: 73€ double / 60€ single; Indoor rooms: 66€ double / 58€ single. Book: direccion@diamarhotel.com ; code: "Congreso Cambio Climático". Offer depending on availability.
Gran Hotel (5 stars): 107 € double room/ 82€ single room. Book: www.aghotelspa.com ; code: Gparque. Offer depending on availability.
"Albergue La Santa" is very affordable but 30 min (by car) to 60 min (by bus) away from Arrecife, on the west coast of Lanzarote. There are bus connections from La Santa to Arrecife: bus timetable. A taxi from Arrecife airport to La Santa costs around 40 EURO and takes 30 min.

More hotels:

More housing for rental:
Do not hesitate to contact the local organisation [Elena Mateo] for further assistance.
---
Transport
Travelling by airplane
To find your flight you can compare prices on skyscanner.net. The Arrecife airport website is also quite useful: https://www.lanzarote-airport.net/.
Taxi fares from the airport to Arrecife centre are around 10 EURO.
The bus will typically be much cheaper. See transport to-from airport and also www.arrecifebus.com.
For those who wish to compensate for meeting/travel-associated carbon emissions the following links may be helpful. Be aware that PREFACE has no association with any of these providers and that the list represents an exclusive selection of examples:
Car Rental
---
Visa
Find out if you need to apply for visa. Even if you do not need to, make sure that your passport/ID card is valid for at least 3 months beyond your visit.
Currency
EURO.
Further Questions?
If you should encounter any difficulties or have further questions about the meeting, please contact the organising committee: prefaceproject(at)uib.no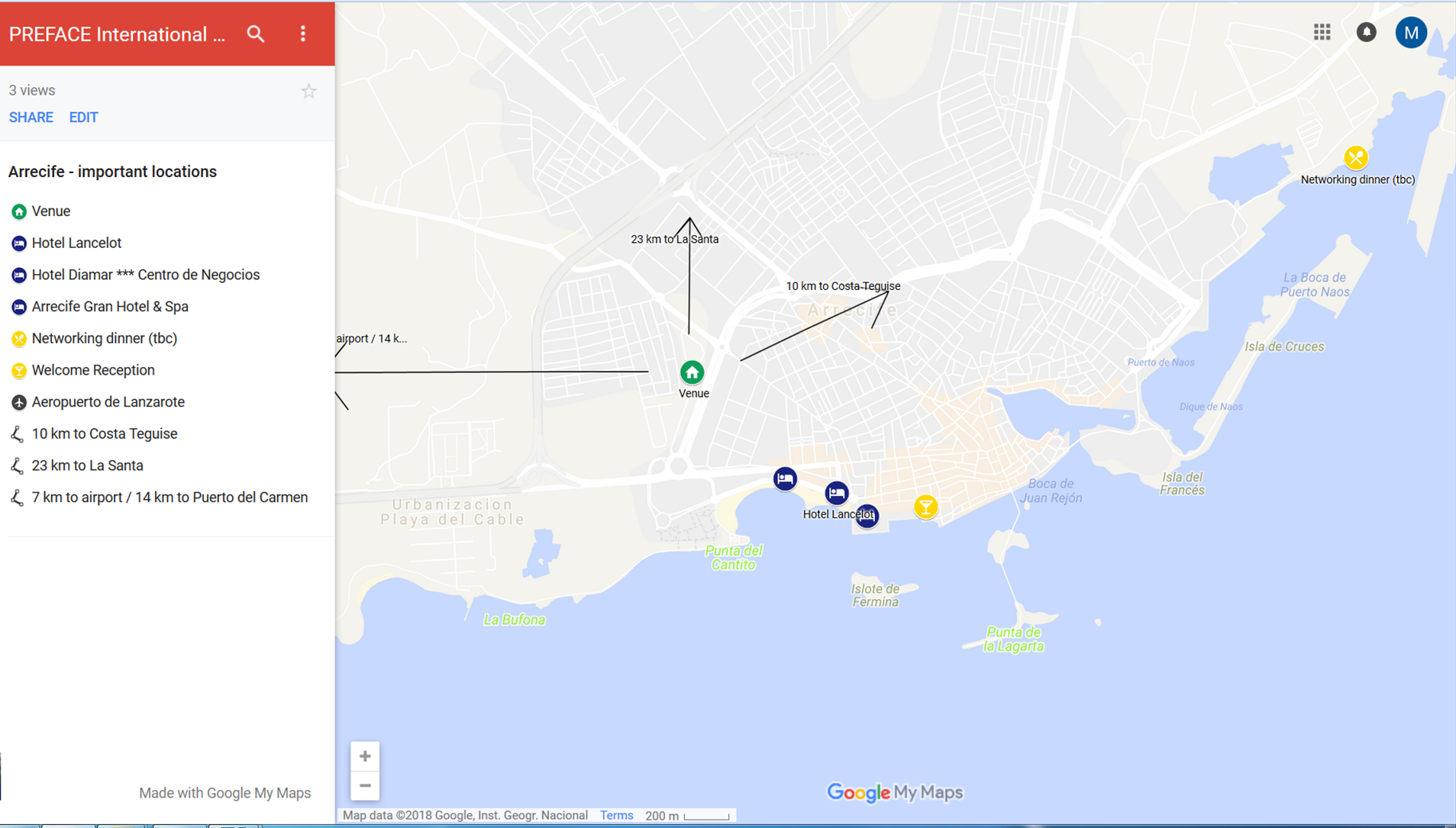 copyright: Google (maps.google.com)
---
We would like to thank Elena Mateos Medero and the Cabildo de Lanzarote – Geoparque Lanzarote y Archipiélago Chinijo for hosting and co-organising the conference and Final Assembly with the PREFACE Office. We are very grateful also to IRD for their generous support. And a special thanks to Belén Rodríguez de Fonseca and Teresa Losada from UCM, Patrice Brehmer from IRD and Jörn Schmidt from CAU, for valuable support in organisation